In celebration of her new release, Ex-Retreat, I have Elise Hepner here. Say Hello everybody!
Today I'm going to do a very brief summarization of my new femdom release, Ex-Retreat, without too many spoilers—with the help of Vampire Diaries Gifs. Because those that know me, know I'm obsessed with this show. Katherine Peirce would be the perfect dom.  So, let's begin, shall we? :
That time when Chloe found out her luxury spa retreat paid for her by her mother was actually a relationship rehabilitation center—during off season—with a sexy handyman, Noah.
Noah tries to woo Chloe with his sexy geekiness by being a cocky dick, but two can play that game.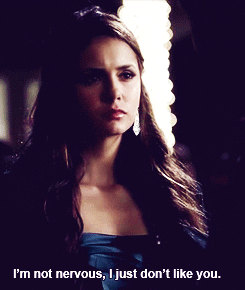 When Chloe gives into her urges for Noah with outlined rules, completely in control.
And, of course, there's drama when feelings get involved.
Will these two crazy kids be able to overcome their emotional obstacles and their past wounds to bang for all eternity?
Warning: This book contains a geeky, secretly insecure but overly cocky handy-man with a penchant for pleasing, a dominatrix in training who's on the rebound, and enough smut to strip a couple layers off your soul. Plus there's mac n' cheese with a smattering of self-actualization for good measure.
After Chloe Barrons' fiancé cheats on her via webcam, she begrudgingly accepts her Type-A mother's offer of a spur of the moment luxury spa weekend. But things don't play out quite from point A to point B when she arrives drunk and disoriented on the front porch of a deserted North Carolina beach house. From the very start she's caught off guard by Noah Knightly, a sinfully sexy, self-proclaimed commitment-phobe who's a handyman for his
sister's relationship rehabilitation center—a rehab where Chloe is the sole guest during off-season.
But faced with temptation, to stay guarded she'll have to call the shots.
Noah shouldn't have taken Chloe's reservation. But in need of a second pair of hands to fix up the beach house, he throws all his sister's rules out the window. Soon he worries that maybe he's bitten off more than he can chew: each day Chloe cracks more of his cocky façade bringing down his guards to reveal a stuttering geek who has a hidden will to please her in any way possible.
With no way to ignore her pain, Noah sets himself up as a guniea pig to prove to Chloe that not all men are created equal—in or out of the bedroom. As Chloe comes into her own through every sexual session, Noah needs to decide if he's man enough to accept the one thing he never thought he wanted—love.
Elise Hepner lives with two spastic cats and a very supportive, slightly crazy husband. There is never a dull moment in the house, unless the caffeine runs out, which it never does. She's a multi-published erotica author with Cleis Press, Ellora's Cave, Xcite, and Secret Cravings Publishing.
She's driven by her tea addiction and a tiny stuffed turtle her husband picked up from Disney World that sits on her desk and "supervises" her work.
When not writing (which is rare), she's watching countless hours of reality television, playing the Sims or shopping online. Plus there's that odd obsession with the color purple. Everything is purple. Visit Elise at her website www.elisehepner.com to keep up with her naughty ramblings, random tidbits and future work.
I have a newsletter where you can sign up for sneak peeks, contests, giveaways, new release news and other fun things: http://eepurl.com/pW8Sj
Twitter: @EHepner